Parliament Square
Jump to navigation
Jump to search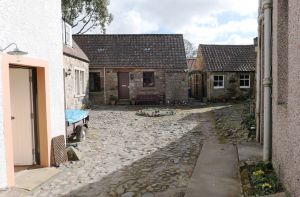 Parliament Square is a small area leading off Cross Wynd.
It contains the following properties:
History
The Shien along with all the buildings and grounds of Parliament Square or Close belonged to one family from 1938. The owner sold The Shien, The Smiddy, washhouse and grounds of Parliament Square to his son-in-law in 1956. At that time, Wynd Cottage and 2 Parliament Square (which was an outbuilding) belonged to his sons, but had at some point been sold to Robert Craig.
In 1962, when the current owners bought The Shien, they became owners of the grounds of Parliament Square, The Smiddy and washhouse. At that time Wynd Cottage belonged to a Mr and Mrs Bett, as did half of Number 2, the other half belonging to Robert Craig. The piece of ground between the boundary wall of the square and the back of the Lomond Tavern also belonged to Robert Craig.
The Smiddy was used as storage space until the gable end, where the forge had been, collapsed taking part of the roof with it.
In 1987 the present owners were given planning permission to convert it into a house, which it has been since January 1990.
In the square there is a feature called a hooping bed. This is a stone circle which was used to form and place the iron rims round cartwheels.[1]
Notes
↑

Information from resident.