Parish of Falkland
Jump to navigation
Jump to search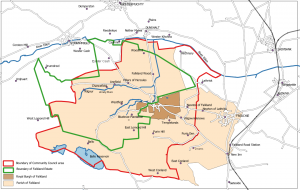 The historic Parish of Falkland, shown in yellow on the map, covered a much wider area than the Royal Burgh of Falkland, shown in brown, and included Newton of Falkland and Freuchie. The northern boundary of the parish was roughly the River Eden.
Officially the parish no longer exists (the current Community Council area, shown by the red outline, has somewhat different boundaries) but it is still a useful way of classifying historic buildings. The Falkland Estate has had various boundaries at times; the green outline shows an early-21st century state.
Further references
"A parish in Fifeshire bounded on the south by the parishes of Portmoak, Leslie and Markinch On the east by Markinch and Kettle, on the north by Strathmiglo and Auchtermuchty and on the west by the parish of Strathmiglo, it extends from east to west about 5 miles and about 2 1/2 miles in breadth from north to south, but at its two extremities about 3 1/2 miles. Besides the Royal Burgh of Falkland, it contains two villages namely Newton of Falkland and Freuchie. Of which see their respective descriptions in the adjoining sheets. This parish is in the Presbytery of Cupar and Synod of Fife. Patron - Bruce of Falkland."[1]
Notes
See also